Sacramento Shredding Services
Our mission is to provide offices and homes with the best paper shredding service options available. You have important documents that deserve the highest level of security. But that does not mean sacrificing service or cost. All of our document shredding service options will protect your information and comply with FACTA and HIPAA. If you have sensitive material, we shred it for you.
Sacramento Shredding Services
Sacramento Shredding Services delivers numerous paper shredding service options designed to go beyond every client's requirements at affordable prices.
We will exceed your shredding needs at any level. Many offices start as one-time purges at the end of the year and grow into recurring shredding clients. We can offer the most competitive pricing in Northern California.
To learn more about the services available from Sacramento Shredding Services, either give us a call at (916) 520-6450, or simply request a FREE quote today.
The Costs of Shredding Documents Internally
It's critical to find a way to make sure your documents are shredded properly. Document shredding is usually handled by one employee and a $40 shredder from the local Sacramento electronics store- but within a few months, it evolves into a bit larger task.
To pick up the extra volume you have to shred, you could invest in a higher-quality shredder-but how many shredders do you have to replace before you start considering other methods to take care of this mundane task?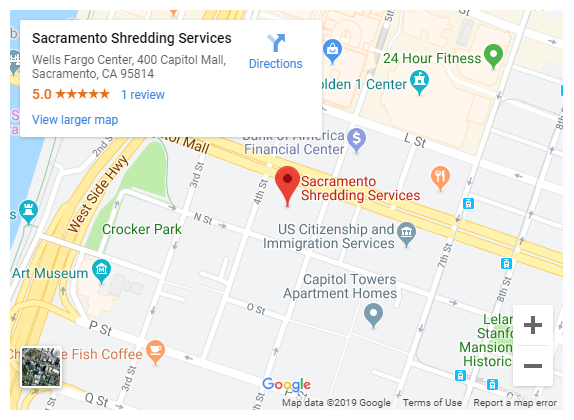 Get Free Quotes on Shredding in Sacramento
Sacramento Shredding Services
We offer several options for both mobile and offsite shredding, including:
Ongoing Service – Daily, weekly, or monthly scheduled shredding service. Secure, locked shred consoles are placed in your office free of charge.
Purge Service – For companies that require annual, one-time, or occasional shredding. Pricing is based on quantity to shred.
Certified Service – No matter how your paper shredding in Sacramento is done, you will get a Certificates of Destruction.